Easexp Settings Backup
Back up, restore, sync Windows and program settings.
Easexp Settings Backup (ExSB) is a tool to back up, restore, sync Windows system settings such as date time, formats, wallpaper, colors, taskbar, group policy, firewall rules, disabled services, tasks, events...and the settings of popular programs such as Office, Firefox, Edge, Chrome etc.
ExSB is not designed for backing up common files, although it's able to. You can consider ExSB to be like the Windows Sync, only it's a real backup tool that can save those settings in files or folders, and restore them to system at any time you want.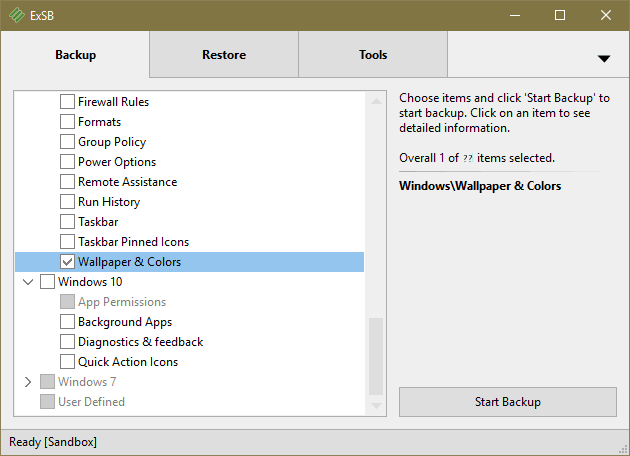 ExSB has been released as a freeware for non-commercial uses. Please consider to
Make a donation
if it's useful to you. Donations mean a lot to us and will help us improve our products, create more free tools in the future!
Backup, Restore and Sync
During using Windows and favorite apps, you have adjusted them a lot to meet your need. You do NOT want to do that over and over again each time after rebuilt or reset the system. You want a tool to save those settings and restore them back whenever necessary.
You also want to sync those settings across different OS versions or computers, e.g. transfer your settings from Windows 7 to Windows 10, or even from Windows 10 to Windows 7.
That's what ExSB is designed for.
Easexp Settings Backup a.k.a. ExSB, can back up those system and application settings, and restore them to the same system at any time, or sync them to a different system.
More Setting Items to Backup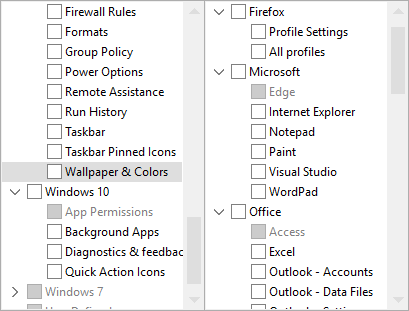 Detailed setting items - Down to each specific category such as "Date Time", "File Explorer", "Taskbar Pinned Icons", much better for users who want to take full and advanced control.
Additional system settings - Disabled services, tasks, events, power options and other system-wide settings which are not supported by Windows Sync.
Application settings - ExSB also supports to back up the settings of popular applications such as Edge, Chrome, Firefox, Office etc. More applications will be added over time.
Much Flexible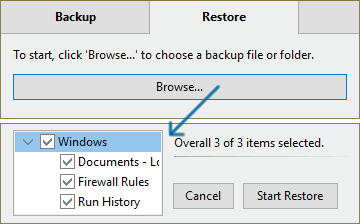 Not only you can choose which items to backup, you also can choose which items to restore to the system from a backup.
Settings are backed up to zip files or folders directly. Data in a backup can be easily examined and manually restored if you want to. Registry entries are saved in .reg files, which can be imported to system directly in most cases.
ExSB doesn't limit to only sync setting from earlier OS to newer. You can back up settings from Windows 10, then restore them to Windows 7.
You can choose to back up settings only without actual data, for some special items, e.g. backing up location of documents folder, but not the files in it. Why?
Restore settings without restarting computer, or only need reloading Windows Explorer when possible. It doesn't require admin privileges when performing backup for most setting items.
A Real Backup Tool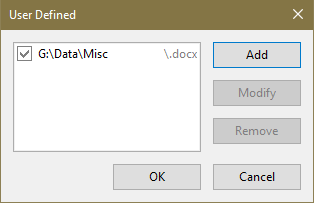 ExSB is not just only a sync tool. It is a backup program which can actually save settings to a zip file or a folder directly, instead of simply synchronizing them. The backups can be saved and copied to any storage media, and can be restored to current system or other system at any time.
In addition to backing up system and app settings, ExSB can also be configured to backup common files and folders, even registry entries, with its User Defined items.
Color Theme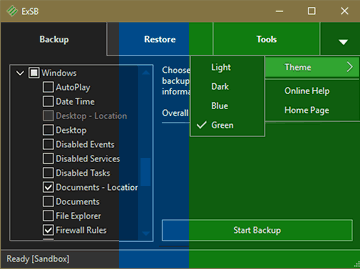 ExSB has been designed to fully support color themes. There are built in color themes such as "Light", "Dark", "Blue", "Green". You can add new color themes, or modify the existing ones.
Well, we actually was only planning to create some customized buttons in the first place...
Then we decided all UI should be color themed, including the popup menus, scroll boxes etc. A color theme library eventually was created, and can be used by other products of ours in the future.
Download ExSB
Version 1.0.1
64-bit Windows 7, 8/8.1, 10
573 KB
ExSB is a freeware. You can download and use it without any fees to pay. Please recommend it to your friends if you think it's useful.
Donations are always welcome and are very important for us to continue our works.