Password Master
Password manager and generator.
Password Master can be used to manage any kind of your passwords and user names and other information, including passwords for emails, online services, programs etc. It also provides a build-in password generator to help create passwords.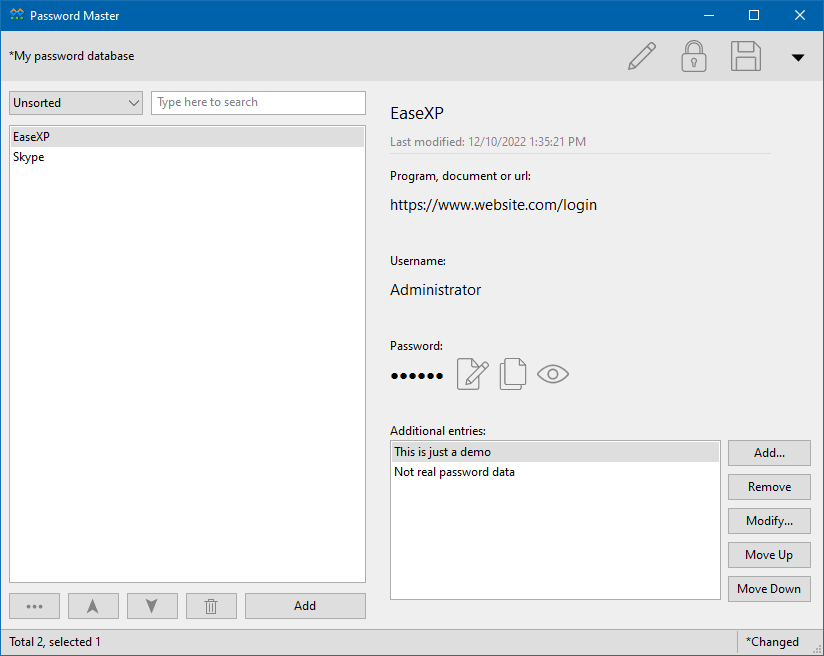 What's Password Master?
In "digital age", everyone needs to create so many passwords. It's not an easy thing to remember all of them, plus the related services such as websites or programs.
As you already knew, using same (or similar) passwords, or using special strings e.g. your child's nickname or your birthday, are all bad ideas. The best choice is to create unique and random passwords. But this can be annoying and it's impossible to remember all those passwords.
Password Master can save those passwords and related information into a single database (profile), use a "master password" to encrypt them. You only need to remember the single master password.
Password Master provides a powerful build-in password generator. You can use it to create unique passwords easily.
Create as many databases (profiles) as you want.
Databases are files so can be easily backed up.
Print and print preview.
Sort password items; find password items.
Export all or selected password items to text document.
Exported text document can be imported by programs like MS Excel.
Password protect the software itself.
Hotkeys (menu/toolbar hotkeys and global hotkeys).
Download the free trial or purchase a license.
Version 1.1.2
Windows All (2000, XP, Vista, 7, 8/8.1, 10)
259 KB